We are pleased to bring you The Travel Column, written for "The Trinidad Guardian"
VIVA LAS VEGAS!
Las Vegas is certainly alive, and for me, it was so much better the second time around! I first visited this city a few years ago; my husband and a colleague from his office had to attend a tradeshow, and I took the opportunity to go along for the ride. It was quite a last minute trip, but still we managed to execute poor travel planning (shame on me!) and we did not plan in advance, figuring we would get tickets for any of the evening shows and events when we arrived there. It should have been no surprise really, but the only tickets to be had were to a Motocross Racing exhibition … well, that turned out to be a less-than-impressive night (my apologies to all the motocross fans out there!). This time however, the tables were turned, and I had the opportunity to attend a trade show last week, one of the leading ones in the travel industry. And my husband's chance to enjoy a week's vacation while I brought home the bacon each day! We took no chances, and made sure to do lots of research and pre-planning for things to do in the evenings … hey, I wasn't about to miss out on the opportunity to see Celine Dion live at the Colosseum at Caesar's Palace!

Celine Dion Live in Las Vegas
Things to do:
My opinion of Las Vegas this time around has changed quite dramatically; at the end of our first visit we did leave thinking "been there, done that, no need to go there again". Now, following proper travel planning, I have to admit we truly got a great chance to see what Las Vegas really has to offer. It's like the shopping of Miami, the theatres of New York, and the theme parks of Orlando all rolled into one. Clear out your pre-conceived notions, Las Vegas is not just for gambling; there's excellent shopping, from the discount outlet malls to the exclusive shops at The Forum, and believe me, there's certainly something for everyone. Getting around is easy, there's a steady stream of reasonable taxis at every hotel, and if riding in a limo is more your speed, there's even a stretch "Hummer" if you please! Excitement at night abounds; must-see theatre includes Cirque du Soleil's "O" at the Bellagio (you'll be on the edge of your seat at this performance) and of course the real drama and magic of Siegfried and Roy, complete with tricks by their white Bengal Tigers, just a few feet away from the front of the audience, minus any cages! Seeing Celine Dion live is certainly an experience; give it to her, the lady can sing. I must tell you though, she is the epitome of "diva" … she really is the queen of her stage, she knows it and she shows it. Her fans could never be disappointed with the quality of her show, and of course her incredible voice. Hands down however, the most entertaining show to hit the stage just has to be "Mamma Mia". It really is ABBA-solutely fantastic! From the very young to the very old, I guarantee everyone will enjoy this show, even if you don't know all the words to every ABBA song. I bet you five bucks, you'll be humming along, tapping your toes, just itching to jump on the stage to join in the singing – and you will leave the theatre feeling like you're on top of the world. It's a truly wonderful, wonderful, feel-good production.

The Bellagio
Where to stay:
Your only dilemma in visiting Las Vegas will be … where in the world should I stay? Literally. The Las Vegas strip is loaded with incredible hotels, each trying to outdo each other, each with a different theme and feeling; it's really like Disney World for big people. The aim of each hotel is to keep you within their grasp (so you will stay to gamble, of course!) and they do a really good job of this. Working your way out of the maze of gambling machines and tables in each hotel is quite a challenge. With each hotel, comes the choice of many destinations around the world. How about Rio or Monte Carlo? One night you can pretend to be in Paris, and even explore the Eiffel Tower! There's an exact replica of France's famous landmark (albeit at a 50% scale), complete with an elevator to take you to the top to take in Las Vegas' illuminated skyline at night. Another evening, you can find yourself in Italy, exploring the canals of Venice, on a gondola complete with your own gondolier to serenade you with a song or two. Okay, so it's not the real thing, but it will give you a pretty good idea all the same. Then go back in time at Caesar's Palace, to the days when he ruled the Roman Empire; be on the lookout for his centurions standing by to escort you to your room or poker table! Undoubtedly, the "crème de la crème" of the strip is the Bellagio, my personal favourite. The décor, the ambiance, the food and the service are all excellent. It's a beautiful hotel by day or night, and perhaps what it's most famous for is the large lake to the front with it's illuminated fountains. Each night, every 15 minutes, these fountains "perform" perfectly timed to music, such as Andrea Boccelli's "Time Too Say Goodbye" or the love-theme from the movie Titanic, "My Heart Will Go On". It is a most beautiful and romantic sight, although completely man-made.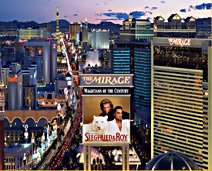 Las Vegas at night
So, I'll be frank; if you're into culture, history, breathtaking scenery or solitude, Vegas is definitely not the place for you. But if you're looking for some great entertainment, some great shopping, and a big break from reality, then go ahead, roll the dice and place your bets, Las Vegas can really offer you a great vacation experience!
Melanie Waddell, Director
trvlcentre.tt@gmail.com
August 28, 2003
Previous Travel Columns